TÜV Rheinland issues TÜV and IEC certificates for PV Breaker Products to Suntree
Publish Time:
Author: Site Editor
Visit: 835
Recently, products such as DC molded case circuit breakers and disconnectors developed and manufactured by Suntree Electric Co., Ltd. (hereinafter referred to as "Suntree") have successfully obtained the TÜV and IEC certificates issued by TÜV Rheinland Group ("TÜV Rheinland") . January 25, TÜV Rheinland Greater China vice president of commercial and industrial products services Mr. Bo Xia, department manager Mr. WenCai Zhang, sales manager Mr. JiuLong Li, Suntree Electric chairman Mr. XinWen Liu, general manager of technology Mr. KunMing Peng, , Zhejiang Province mechanical and electrical products quality inspection Director Mr. Liang Du, deputy director Mr. KeFeng Yuan, sales manager Mr. Wei Liu, attended the ceremony held in Suntree headquarters.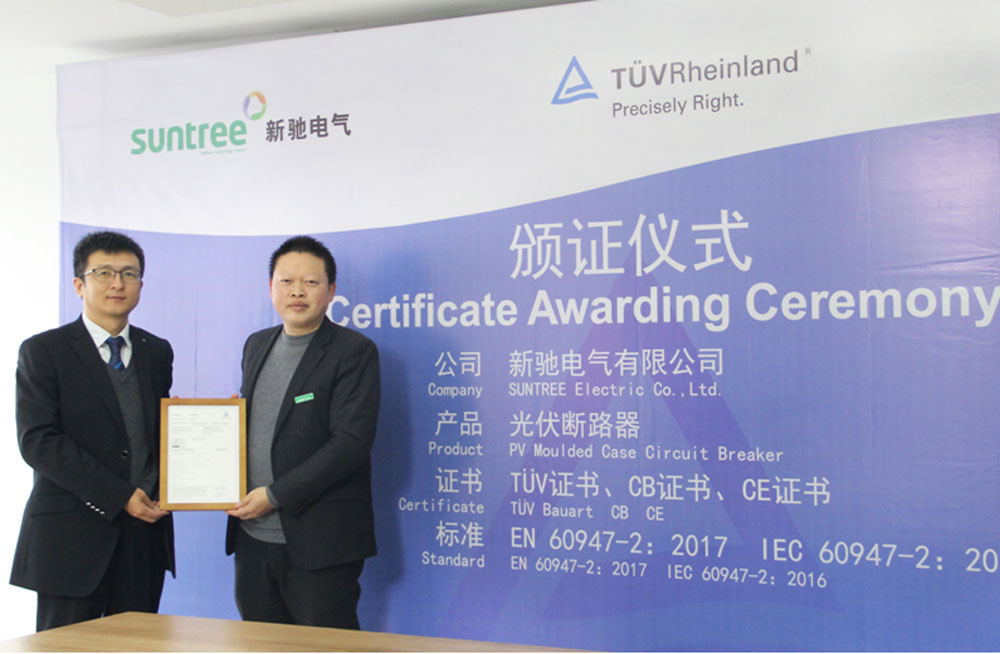 Suntree has been committed to providing users with green, environmental protection, safety, intelligent electricity service, using technology to connect human and nature. Suntree has a strong ability of independent innovation, with a dedicated R & D team, the product of independent research, development and innovation, and pay close attention to the implementation, especially in the field of technology research and development, each year 5% of sales revenue continued to invest in technology research and development. Through years of research and development and research, has won more than 40 patents, of which 10 invention patents, and also won the "national high-tech enterprises", "science and technology enterprises in Zhejiang Province", "Wenzhou City science and technology innovation-oriented enterprises", "Wenzhou City Enterprise Technology Center", "Yueqing municipal technology research and development center", " Growth Enterprise "and other honors.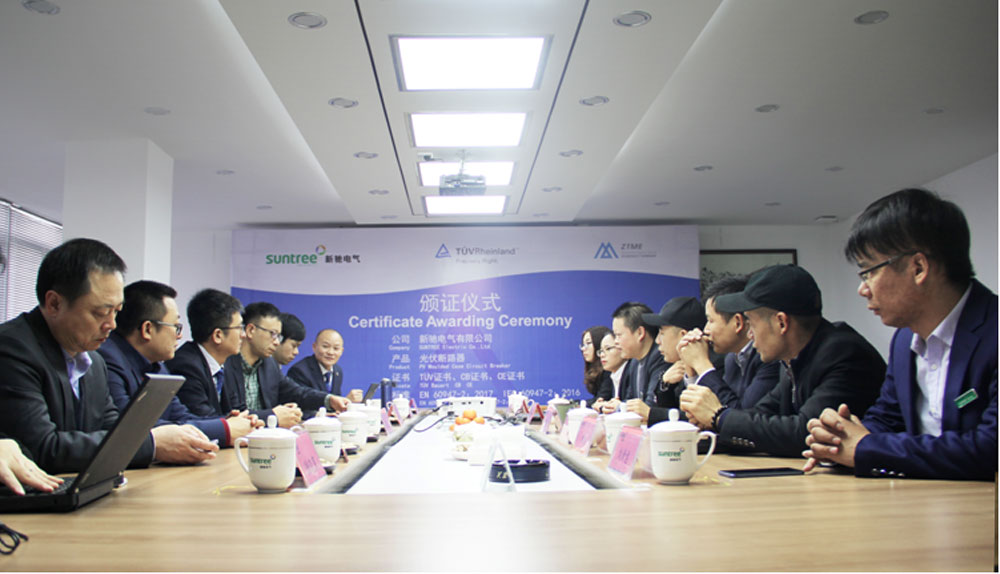 Mr. Pu Xia, Vice President of TÜV Rheinland Greater China, said at the awarding ceremony: "We are deeply grateful that Suntree has been awarded the TÜV and IEC certificate by TÜV Rheinland. We hope that through close cooperation, we will assist to Suntree more efficiently for localised market access tests, reduce certification costs and risks, improve product quality, cooperate to promote planning for Suntree independent brand products, push more products that represent China's quality to all corners of the world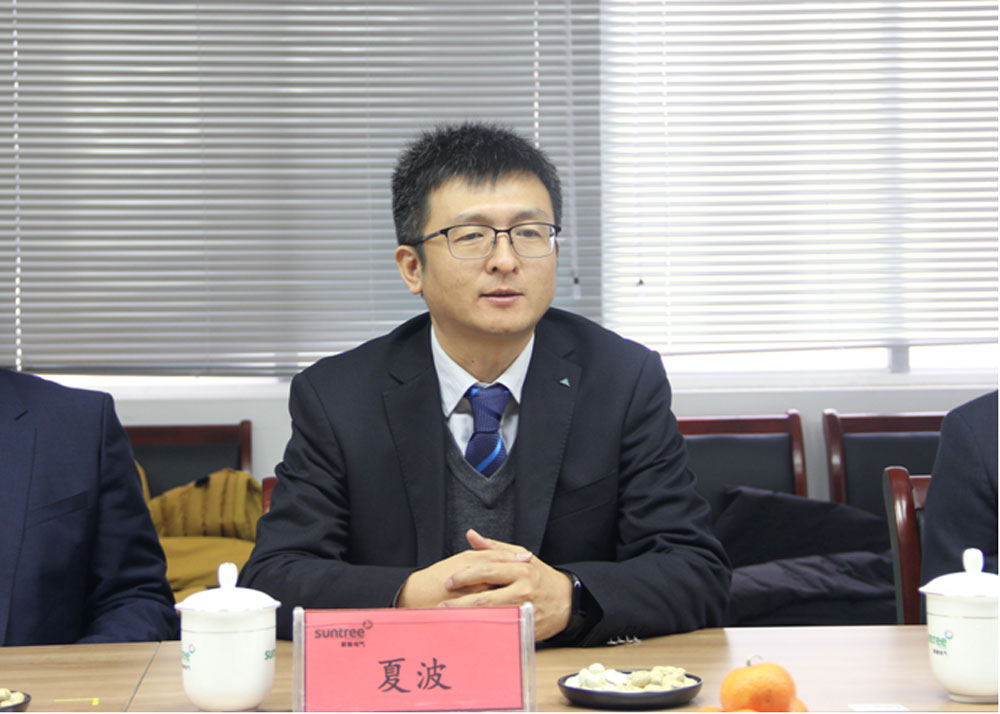 Chairman of Suntree Mr. XinWen Liu said: "Suntree is a representative brand of Suntree Group. Suntree Electric Co.,Ltd now developing a series of brand strategy promotion plan. Currently, Suntree has set an inclusive sole agent in Australian market know as "Suntree" a national brand, and Suntree win great favorite and praise by the customer. At the same time, Suntree also laying out sale strategies in other overseas markets. As a rising star in the electrical industry, Suntree will always adhere to the core values of "innovation, efficiency, integrity, communication and win-win notion", and will steadily provide more worthy, safer and more reliable high-quality products and services to consumers, as well as take corresponding responsibilities for the "Made in China 2025." We sincerely thank for TÜV Rheinland for its efforts in this certification process and look forward to TÜV Rheinland's further cooperation in the future to provide more support and help to Suntree for products smoothly into other international markets. "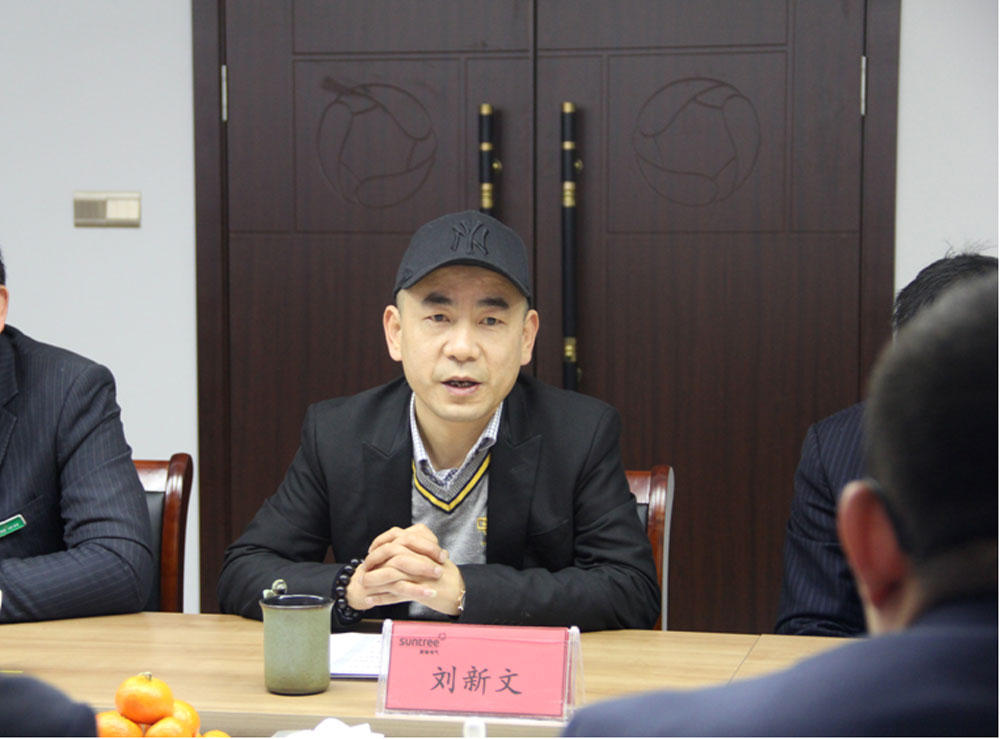 Over the years, TÜV Rheinland has focused on quality and safety to provide low-voltage electrical manufacturers with a full range of testing and certification solutions to meet global market access requirements. The professional localization service team always pays close attention and studies the development of forward-looking standards. It constantly improves laboratory accreditation, upgrades test equipment and personnel, and helps local manufacturers to speed up product migration from production line to global market. In this way, TÜV Rheinland's experts tap the door to international markets for retailers, buyers and manufacturers while ensuring the sustainability of product safety in the global flow of goods.