ADVANTAGES
Quick Details
Place of Origin: Zhejiang, China (Mainland)
Brand Name: Suntree/
Model Number: PV solar cable
Insulation Material: XLPE
Type: High Voltage
Application: solar panel system
Conductor Material: Copper
Jacket: halogen free crosslinked polyolefin
Product name: Suntree DC 2.5mm2 Dual Core PV Cable PV Cable approved UL ,TUV
Color: Red/Black
Certificate: TUV,UL
Rated voltage: AC 600/1000V DC 1000/1800V
Core: 1 Core/2 Core
Cross-section: 1.5/2.5/4/6/10 mm2
Rated temp: -40℃-+90℃
Rated current: 20-95A
Weathering resistance: 4.97Ω
Finished cable o.d: 5.35+-0.1mm
Dual Core PV Cable Charateristics:
a) Dual wall insulation,electron beam cross-linked
b) Excellent resistance to UV,water,ozone,fluids,salt,general weathering
c) Excellent resistance to abrasion
d) Halogen free,flame retardant,low toxicity
e) Excellent flexibility and stripping performance
f) High current carrying capacity
g) Sheath colour: black or red
h) 5-year factory warranty from date of delivery
i) Designed life:25 years
j)Wire: Class 5,Tin bed
k) Insulation material :XLPE
l) Smallest permissible bending radius: 5XD
m)Temperature range: -40℃~90℃
n)Flame test according to Din EN 50265-2-1 UL1571(VW-1)
Advantages of Dual Core PV Cable:
1. Executive Standard:
PV Solar cable ( Photovoltaic Solar cable) refers to original draft made out by PV system cable work team of German Standard Committee( Technical Specification 2PFG1169/08.2007 in Rhein TUV Company German).
2. No-Halogen PV Solar Cable Type:
PV1-F: Tinned Flexible Copper Wire No-Halogen PO Insulation & Sheath Photovoltaic System Cable.
Specification
Type
Cross section
Strand design

Conductor diameter

Conductor resistance

Outer diameter

A×B

Rated voltage
Rated current
mm2
NO.×Φ(mm)
mm
Ω/km
mm
V AC/DC
A
PV-2×1.5mm2
1.5
30×Φ0.25
1.6
13.9
5.80×9.30
1000/1800
20
PV-2×2.5mm2
2.5
50×Φ0.25
2
8.06
6.20×9.90
1000/1800
30
PV-2×4.0mm2
4
56×Φ0.3
2.6
4.97
6.9×11.30
1000/1800
50
Wire
Class 5,tinned
Insulation material
XLPE
Double insulated
 
Halogen-free
 
High resistance against oils,greases,oxygen and ozone
 
Microbe-resistant
 
UV resistant
 
High wear and abrasion resistance
 
Flam test according to
DIN EN 50265-2-1 UL1571(VW-1)
Smallest permissible bending radius
5×D
Temperature range
-40℃~+90℃
Colours
Black/red
DIMENSIONS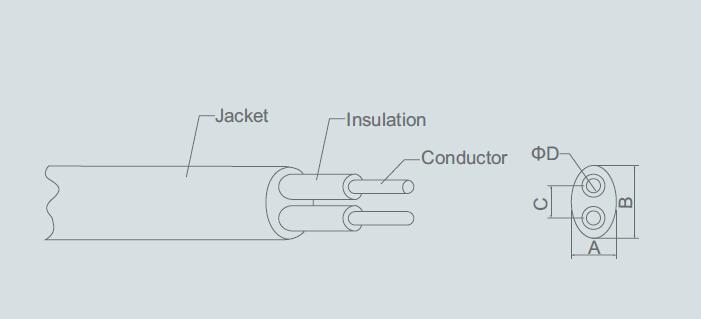 Message
Related Products
News information