Quick Details
Place of Origin: Zhejiang, China (Mainland)
Brand Name: SUNTREE/OEM
Model Number: SM6
Type: Moulded Case
Poles Number: 3/4
standard: IEC60947-2, IEC60947-3
RATED CURRENT:200A,225A,250A,300A,315A,400A ,630A
breaking capacity: 45KA,65KA,85KA
CHARCTERISTIC CURVE: B ,C,D TYPE
class: A,B,C
Tripping Device: Electric and Thermal magnetic
Intelligent: with Intelligent electronic release
Instantaneous time: 2~10
Rated insulation voltage: 850V
websit: www.chinasuntree.com
Specifications
1) Electric and thermal tripping for MCCB
2) High quality MCCB
3) With CE ROHS CB SAA Attestation
4) Competitive
Electric and thermal magnetic tripping device for NS MCCB has passed IEC, CE
Application of MCCB
SM6 MCCB is suitable for using in the circuit of AC 50/60Hz, please make remarks when ordering, rated insulating voltage 750V, rated working voltage below 690V, and rated current is 16A to 1250A for distributing electric energy, and infrequently OFF/ON under normal condition. The intelligent MCCB, which the rated frame rank current is 800A and below, also can be used for infrequently switching and starting of squirrel cage motor and for protecting motor from over-load, short circuit and under-voltage.
Working conditions of MCCB
1. Not over altitude 2000m;
2. Ambient temperature is between-25°C and +40°C ; Working in the medium which not any explosive, not enough dielectric to corrode metal, no gas to damage insulation and electric conduction dust;
3. Working in the place would not be invaded by rain and snow;
3. Pollution degree3;
4. Mounting type.
Classification of MCCB
1) According to using: distribution circuit protection type, motor production type;
2) According to connection mode: front panel connection, back panel connection, plug-in connection;
3) According to operating way: for direct handle operating, for motor operator operating, for rotary handle operating.
4) According to the number of pole: 3,4 pole.
5) According to the accessory: with accessory setting, and without accessory setting.
The Main Capability Index of MCCB
the protection of SM6 serise breakers(intelligent)
The frame current grad(A)
Rated current
Times of short delay(times)
Notice
100model(SE)
40-100
2-10

1: Grades to adjust:2,3,4,5,6,7,8,10

2: Rated current can be adjusted, and has 48 grades.

3:Distribute electric instantaneous multiple up from 11 times.

4: Motor instantaneous multiple up from 12 times

160model(SE)
64-160
2-10
250model(SE)
100-250
2-10
400model(SE)
160-400
2-10
630model(SE)
250-630
2-10
1250model(SE)
500-1250
2-10
SM622SE,SM623SE distribution circuit breaker protection curve(Intelligent)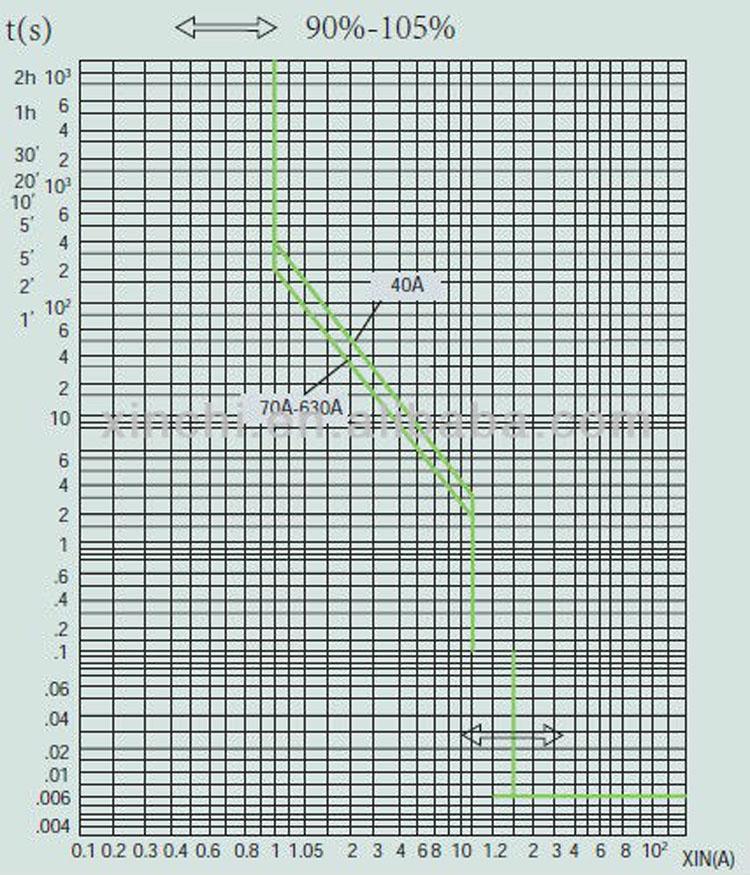 SM622SE, SM623SE power circuit breaker protection curve(Intelligent)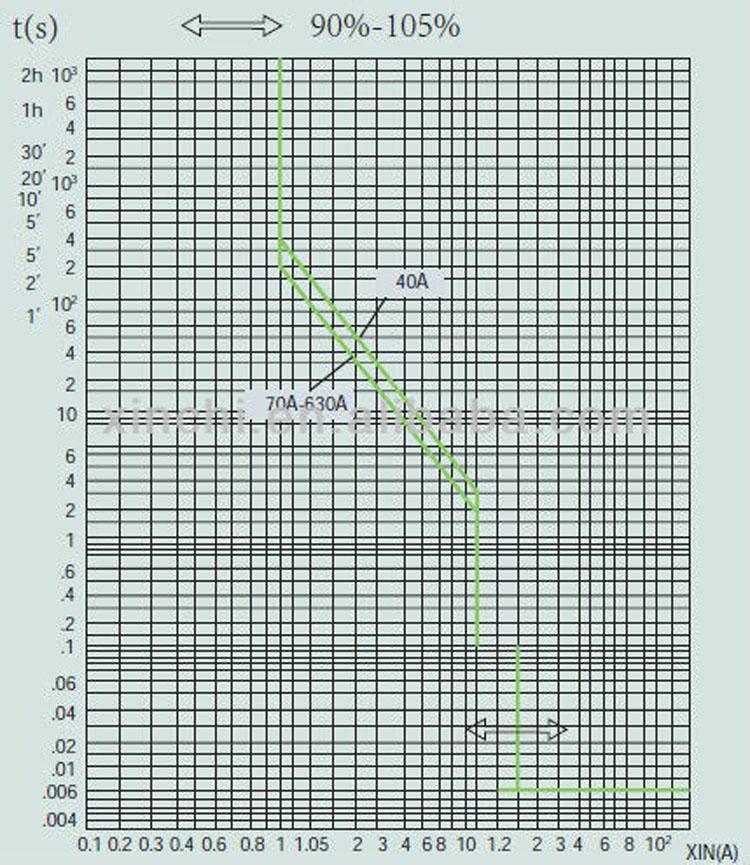 SM6 MCCBSPECS
The protection of the thermodynamic distribution circuit breakertm (comply with IEC60947-2) Ambient temperature+40°C