Quick Details
Place of Origin: Zhejiang, China (Mainland)
Brand Name: SUNTREE/OEM/ODM
Model Number: M1L Earth Leakage Moulded case circuit breaker
Type: Moulded Case, M1L Earth Leakage Moulded case circuit breaker
Poles Number: 3P,4P
Standard: IEC60947
Certificate: IEC,CE,CB,SAA,etc.
Number of poles: 3pole ,4pole
Rated Operating Current: Up to 630A
Rated Insulation Voltage (V): 400V
Rated Rated working voltage(V):AC230V,AC400V;DC110V,DC220V
Ambient air temperature: -5℃ ~40℃
Greadient: less than 22.5°
websit: www.chinasuntree.com
Specifications
- High quality low price
- High breaking capacity
- Has passed IEC, TUV, SAA
M1L Earth Leakage Moulded case circuit breaker 16~630A AC230V AC400V DC110V DC220V 3P 4P
Characteristics
SM1L series moulded case circuit break with residual current production. Rated insulation Voltage is 800V. It applies to circuit of AC 50Hz, rated working voltage 400V and rated working Current up to 630A, for infrequent switch over and infrequent start of motor. With overload,Short Circuit and under-voltage production,it can protect circuits and power-supply equipment from damage, can also be used for production from damage and any potential fire-hazard caused by long Existing earth fault which can not be detected by over-current production. The value of residual current is selectable.
Operating conditions
1 Ambient air temperature:-5°C ~40°C
2 Altitude:less than 2000 meters
3 Greadient:less than 22.5°
4 Place free from erosion of rain and snow
5 Ambient environment/medium free from explosive danger and air or conductive dust which may cause corrosion of metal or weakness of insulation.
Function of M1L Earth Leakage Moulded case circuit breaker
1 Overload protection
2 Shunt circuit protection
3 Under-voltage protection
4 Residual current protection
5 Power distribution
6 Motor protection Disconnection
Specifcations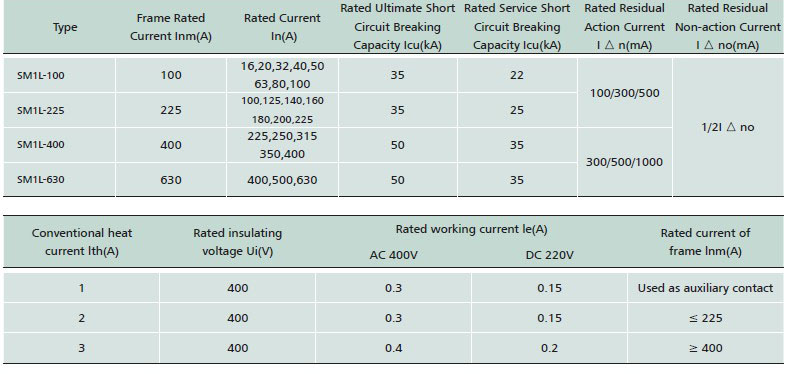 Tripping characteristic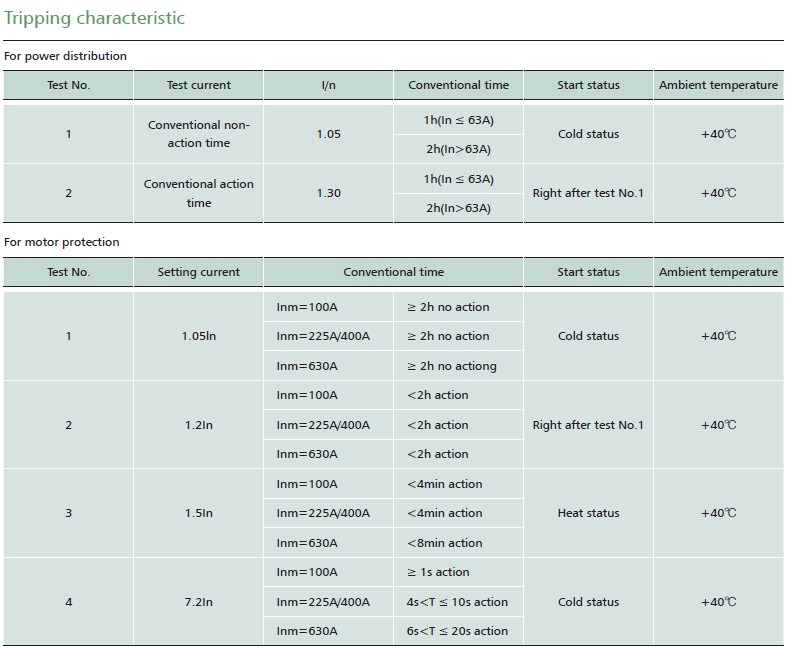 Dimension of M1L Earth Leakage Moulded case circuit breaker