Quick Details
Place of Origin: Zhejiang, China (Mainland)
Brand Name: SUNTREE/OEM
Model Number: SQ3N WATSN automatic static transfer switch
Max. Current: change over switch for 63A
Max. Voltage: automatic static transfer switch 220V
Pole: automatic static transfer switch of 3P,4P
Change over time: Less than 800A 1S/0.5S, 800A~300A1.2S/2.4S
Operation type: Auto&Manual, or Manual automatic static transfer switch
Quality guarantee: 3Years of making automatic static transfer switch
COC: China, automatic static transfer switch
Max current:: automatic static transfer switch for 63A
Feature: Double complex Contact,Zero Arc,distinct on&off Position indicator
SQ3N(WATSN) Series Automatic Static Transfer Switch
Single-motor for transfer driving
Eletromechanical interlocking protection
WATSN Automatic Static Transfer Switch
SQ3N(WATSN) automatic static transfer switch
SQ3N(WATSN) series automatic static transfer switch is a new generation of automatic transfer switch developed by our company making use of microcomputer control technology, it employs our NS and C65 series circuit breakers as actuating members, and is equipped with electromechanical integrated control mechanism that with mechanical-electrical dual-interlocking. The automatic static transfer switch is especially suitable for important power supply positions where power failure is not allowed. In order to adapt to the field needs, this series automatic static transfer switch is able to realize three operating models, i.e. auto-switch-in, auto-restoring, autoswitching-in without auto-restoring, standby for each other.
Function and distribution of power transfer system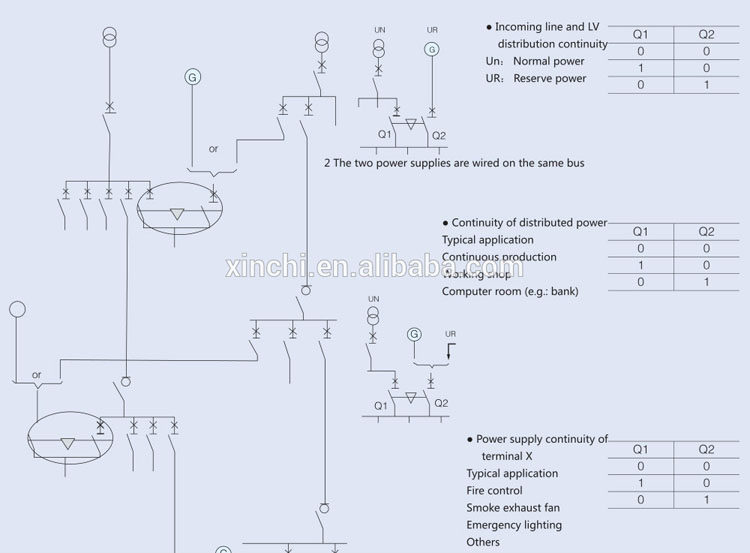 Product Usage
SQ3N(WATSN) series automatic static transfer switch mainly suitable for distribution or electromotor network, which under AC 50Hz, rated voltage 380V, rated voltage DC 220V, rated current 16A-1600A, main power and standby power and standby power or mutual standby power change over system or city power and generator group overload switch-over. At the same time, the automatic static transfer switch can operated under unfrenquency on and off circuit act as disconnector.
The automatic static transfer switches are widely used at the field of important power supply site, which transport, distribution power supply system and automatization system. For fire protection, hospital, bank, duilding etc, which doesn't allow power off.
Control Charactaristics
The automatic static transfer switch has 3 poles or 4 poles(3 poles +on or off neutral pole);
27 current grades can be divided into 16A 20A 25A 32A 40A 50A 63A 80A 125A 160A 200A 225A 250A 315A 350A 400A 500A 630A 800A 1000A 1250A 1600A 2000A 2500A 3200A;
Basic type: Main stand-by power, self-cast, self-reset;
Automatic static transfer switch
Automatic static transfer switch (ATS)